California Car Accident Laws
Unfortunately, car accidents are not uncommon in the state of California. During the latest reporting year of data, the Office of Traffic Safety shows that there were more than 3,600 total traffic fatalities and more than 272,000 total traffic crash injuries across the state. Whether you are a visitor to the beautiful state of California or a local, you need to understand state car accident laws in the event you are involved in an accident.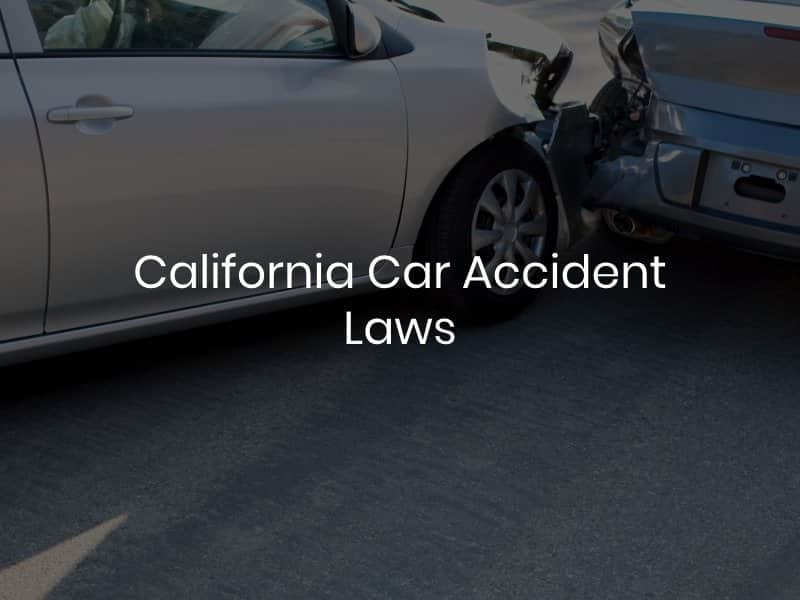 Do I Need to Report a Car Accident to the California DMV?
It is important to understand California law stipulates that just about every accident has to be reported to the DMV within 10 days under the following circumstances:
Anyone involved in the accident sustained an injury (regardless of how minor)
Anyone was killed in the accident
If the crash resulted in property damage of more than $1,000
Do I need to Report a Car Accident in California to the Police?
California laws require that all accidents that are reported to the DMV also be reported to the police. Under California law, the driver of any vehicle involved in an accident must report the incident to the California Highway Patrol or the police department in the city or county where the accident occurred within 24 hours if there were any injuries or deaths involved in the crash.
If the police respond to the scene of the accident, then they will provide a written report on behalf of the agency, and you will not need to make a separate report to the police on your own.
When Should I Report the Accident to My Car Insurance Company?
State laws do not specify deadlines for reporting car accidents to the insurance carrier, but you can be certain that your insurance company has a very strict policy regarding reporting. In general, all accidents must be reported to your insurer very soon after they happen. The sooner that your insurance carrier knows about your accident, the sooner they can begin to defend your claim.
If a person fails to file an accident report with their insurance carrier within a reasonable period of time, the insurance carrier may deny coverage for expenses in the incident.
In order to remain legal on the roadway, all vehicle owners must carry the following minimum insurance coverages:
Bodily injury liability coverage: $15,000 per person / $30,000 per accident minimum
Property damage liability coverage: $5,000 minimum
What if I was Partially At-Fault for a Car Accident in California?
California operates under a comparative negligence system. This means that more than one person can be at fault for an incident that occurs on the roadway. Specifically, California uses a "pure comparative negligence" system that differs from most other states. This means that a person can recover compensation after an accident regardless of their percentage of fault (even up to 99%). Most states prevent a driver from recovering compensation If they are more than 50% or 51% at fault for the incident.
However, the total amount of compensation that a victim receives in car accident damages will be reduced based on their percentage of fault. For example, if a jury awards a car accident victim $100,000 in total damages, but also determines that the person was 20% responsible for the incident, then the victim will only receive $80,000 in total damages. Consider enlisting the help of an experienced car accident attorney after a collision to help maximize your compensation.